How to measure
1. Chest/Bust
Measure around the fullest part of the chest/bust. Do not draw the tape too tightly.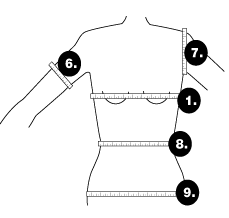 2. Center Back Neck–to-Cuff
With arm slightly bent, measure from back base of neck across shoulder around bend of elbow to wrist.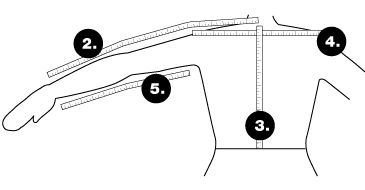 3. Back Waist Length
Measure from the most prominent bone at base of neck to the natural waistline.
4. Cross Back
Measure from shoulder to shoulder.
5. Sleeve Length
With arm slightly bent, measure from armpit to cuff.
6. Upper Arm
Measure around the widest section of the upper arm located above the elbow.
7. Armhole Depth
Measure from the top outside edge of the shoulder down to the armpit.
8. Waist
Measure your waist at the smaller circumference of your natural waist, usually just above the belly button.
9. Hip
Measure at the widest part of your lower hip.
10. Head
For an accurate head measure, place a tape measure across the forehead and measure around the full circumference of the head. Keep the tape snug for accurate results.

11. Sock Measurements
The following measurements are for crew-style or dress socks, which usually come several inches above the ankle and below the calf.
11a. Foot Circumference: To determine the foot circumference, measure around the widest part of your foot.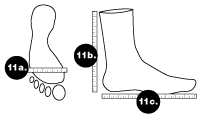 11b. Sock Height:
To determine the height of the sock, measure from where you start to turn for the heel shaping to the top of the sock.
11c. Total Foot Length: To measure the total length of your foot, place a ruler or tape measure on the floor. Position the back of your heel at the beginning of the tape and the measure to your longest toe.
Fit Chart
Very-close fitting: Actual chest/bust measurement or less
Close-fitting: 1–2"/2.5–5cm
Standard-fitting: 2–4"/5–10cm
Loose-fitting: 4–6"/10–15cm
Oversized: 6"/15cm or more
The Length Chart provides average lengths for children's, women's and men's garments.
Length Chart
Waist Length Hip Length Tunic Length
Child Actual body measurement 2"/5cm down from waist 6"/15cm down from waist
Woman Actual body measurement 6"/15cm down from waist 11"/28cm down from waist
Men Men's length usually varies only 1–2"/2.5–5cm from the actual "back hip length" measurement (see Man Size Chart)
Have shared the FIT and LENGTH charts .These are just guidelines. Please note that for individual body there will be differences, and one must make changes accordingly to fit body and sleeve lengths where ever n appropriate. Please keep in mind that we should respect the given project pattern. When certain sizing changes are made it might alter the appearance of a garment.
Courtesy: Craft Yarn Council,
http://www.craftyarncouncil.com/